December 3, 2017
Sex Industry Mafia – part 2
original article found on Sexindustrymafia.blogspot.com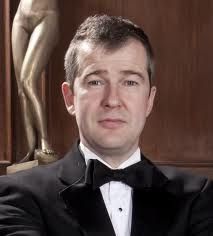 The photo above is of founder and CEO of Kink.com, Peter Acworth. The Huffington Post states that his father is a sculptor and a Jesuit priest. Acworth is a board member of the Free Speech Coalition (FSC), a non-profit trade association representing the adult entertainment industry. While the FSC is supposedly organized for the purpose of fighting obscenity and censorship laws, in practice many of the porn studios the organization has chosen to represent in court have engaged in assault and battery, rape and cyberstalking of their performers, and even included these crimes on set as part of the films. Porn studios represented by FSC attorneys, including Lou Sirkin and Al Gelbard, a former FSC Board Member, are typically characterized by a complete absence of labor rights and safety measures. In addition, the evidence collected on the pages that follow demonstrates that the FSC is a mafia front group facilitating extortion, blackmail, tax evasion, identity theft, cybercrime and more.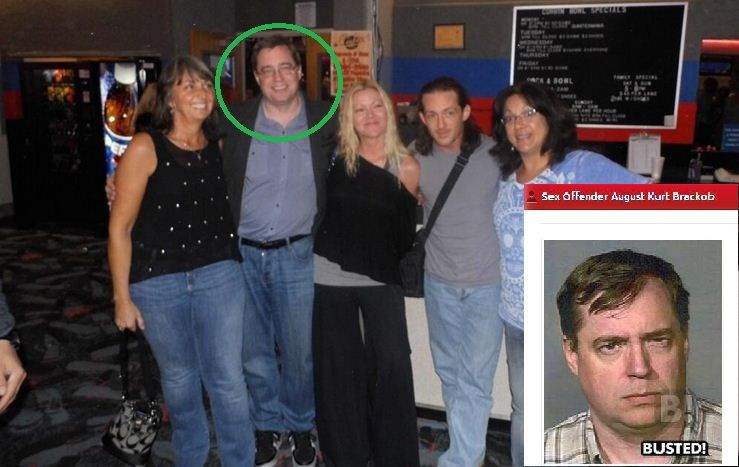 First, let's take a look at the Free Speech Coalition's history of protecting and collaborating with convicted pedophiles. Pictured above is a photo of convicted sex offender Kurt Brackob, aka Kurt Treptow, standing with the executive director of the FSC, Diane Duke, along with porn industry attorney Marc Randazza, porn company Evil Angel general manager Christian Mann, and FSC speaker Lydia Lee. According to porn industry whistleblower site, porn in the valley, Brackob had hosted the "Individual Liberty in the Adult Entertainment Industry" discussion panel and luncheon, which the group pictured above attended. Brackob had been collaborating with the FSC in fundraising efforts to overturn the Child Protection and Obscenity Act (2257 regulations), which have been applied in part to keep track of government-issued IDs for preventing underage performers from performing in pornography.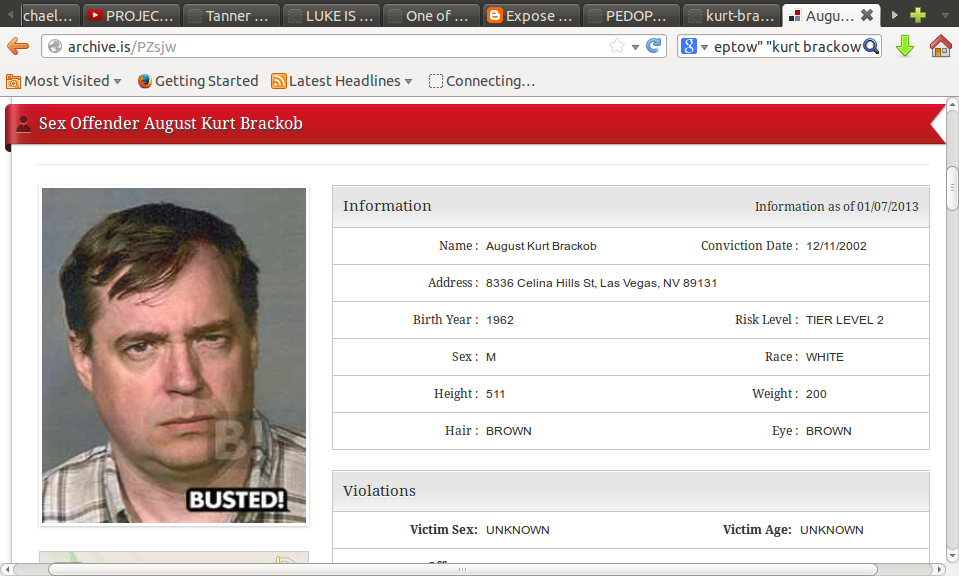 Bucharest Business Week reports Kurt William Treptow is a CIA operative who was offered diplomatic immunity by the Archbishop of the Greek Orthodox Church. The CIA is alleged to have been involved in child sex trafficking via the Monarch Project. Is Treptow involved in Monarch programming?
Bucharest Business Week has obtained a key document that it believes was forged by senior US Embassy officials on behalf of imprisoned pedophile Kurt William Treptow, who is alleged to have been a local operative of the Central Intelligence Agency (CIA). The discovery ignites further a developing controversy surrounding US Ambassador Michael Guest's handling of a situation involving the convicted American child sex abuser and corruption at the US Embassy and at the Fulbright Commission, a Washington-based American government sponsored multi-million USD educational institute.
It also comes at a time when major international newspapers including those in France and Germany have published news stories on Romanian adoptions and when the Financial Times has focused on the Ambassador's alleged misdeeds in the area of adoptions in Romania. Other documents obtained by BBW indicate a trail of corruption by top US officials at a time when Ambassador Guest and European Union officials, including Baroness Nicholson, are sharply criticizing Romanian officials for the very same thing, with the Baroness focusing particularly on treatment of Romanian children.
The original letter obtained by this newspaper was brought to members of the Board at a Fulbright Commission meeting by Mark Wentworth, the US Embassy's Public Affairs Officer, at a time when the US Embassy said it did not know the whereabouts of Treptow. He said he had received the letter mere minutes before the board meeting began. At the time, Romanian media reported that Treptow had been hiding inside the Embassy compound. Treptow, from Miami Beach, Florida, had been named to the Fulbright board by the US Embassy, ahead of Mr. Obie Moore, a prominent lawyer and president of the American Chamber of Commerce in Romania.
BBW has learned that Wentworth wanted the Fulbright board meeting to go into secret executive session on the Treptow matter but he was overruled. In offering it for board members to read, Wentworth added, "There is no need to discuss this matter further. Mr. Treptow has done the honorable thing." In the letter, Treptow, who has a Doctorate (PhD) in history, managed to misspell his own name, which some consider rather extraordinary in any situation but specially for such a sensitive document. Other documents signed by Treptow obtained by BBW show a different signature. High-level US Embassy officials, including Mark Wenig, press attache, and Wentworth, have repeatedly refused to give BBW a copy of the original resignation letter of Treptow from the board of the Fulbright Commission, though they say they do have it.
Wenig, in an e-mail to BBW on Friday, February 6, wrote, "we have the Treptow resignation letter in our possession, but before I can release it to you, I must have approval that its release does not violate provisions of the Privacy Act, or any other U.S. law. I have a request in to Washington on this issue." This is not possible as BBW has the original letter. Other insider documents obtained by this newspaper, including personal e-mails, also indicate that leading US Embassy officials, including Ambassador Guest, former Acting Ambassador Susan Johnson, former Public Affairs Officer, Kiki Munshi, who now uses the family name of Kiki Skagen Harris; Scott Righetti, Academic Exchange Specialist, Bureau of Educational and Cultural Affairs, U.S. Department of State, Washington DC; and Ernest Latham, former US Embassy Cultural Affairs Officer in Bucharest and a trainer of certain American diplomats, were involved in corruption, influence peddling and conflicts of interest related to Treptow and another man, Arthur E. John Gonzalez-Alexopoulos, who terms himself 'His Eminence' and carries the honorary title of Archbishop from the Greek Orthodox Church.
Treptow wrecks children's lives
Treptow sexually abused Romanian children in Iasi, some believed to be orphans, and video-taped and photographed his activities. A graduate of the University of Illinois at Urbana-Champaign, he used the offices of his Foundation for Romanian Culture and Studies/Center for Romanian Studies as a cover. The children, some under the age of eight years, are undergoing psychological therapy. It is not known if other Americans were involved in the child sex ring.
BBW has also learned that the US Embassy in Bucharest ignored, and then delayed, a proposal to place Obie Moore, a lawyer with Salans, Moore, Vartires, and Associates, and president of the American Chamber of Commerce in Romania, on the board of Fulbright Commission. Instead, the US Embassy chose Treptow. Reports allege Treptow was a CIA agent and that being placed on the Board of the Fulbright Commission was an attempt at a disguise by the US Government, after Treptow's cover had been revealed by the Romanian Intelligence Service (SRI). …
US Embassy corruption
BBW has also recently learned that senior members and former members of the US Embassy helped Gonzalez-Alexopoulos, a 57-year-old retired Greek Orthodox monk from the little-known St. Gregory Palamas Monastery in Etna, California, to win the influential post of executive director of the US Fulbright Commission in Romania.
Documents obtained by BBW show blatant conflicts of interest, influence peddling and discrimination by which US Embassy officials supported this one candidate over more than 40 other applicants, Romanian and American. Even worse, some of those people including Righetti, Munshi and Latham, the last two of whom worked together at the US Embassy in Bucharest in the 1980s, were directly involved in choosing the new executive director. They were on the Selection Committee itself. The influence peddling included letters of support and campaigning in support of Gonzalez-Chrysostomos. Support by such American officials discriminated against other suitable and well-qualified Romanian and American candidates….Said one diplomat, "Sheltering of a pedophile and the conflicts of interest by top US Embassy officials, including Ambassador Guest, by discriminating against candidates for jobs, contrast sharply with their attacks on officials in Romania for being corrupt."
Guest was reported in the International Herald Tribune (IHT), "Corruption is rampant in Romania. I'm in fact disappointed in Romania and have grown more so during the time I've served as America's ambassador here. Clearly, there are many people who benefit from 'the system', some of them in influential positions in politics, business or society, or with influential contacts in those areas." He added that in Romania "rule of law is incomplete."
http://euphrosynoscafe.com/forum/viewtopic.php?p=43320
Kurt Treptow isn't the only pedophile supported by the Free Speech Coalition. FSC attorney Lou Sirkin represented Jeffrey Robert Libman of child suppermodels.com and Beautiful Super Models, a company whose owner was convicted for transporting child pornography.
Attorneys for Marc Evan Greenberg, 42, and Jeffrey Robert Libman, 39, contend the men did nothing wrong by posting photos of young girls at their Webe Web Corp. sites and charging people $20 a month to look at them….None of the photos showed nudity, but prosecutors say they still meet court-approved definitions of pornography because of the girls' ages – as young as 7 – and the nature of the pictures, which included children in panties, high heels and adult-looking lingerie…U.S. Attorney Alice Martin said the pictures – which were billed as images of child models – amount to "soft porn" that's prohibited by federal law. (Webe Web) has been a big player in adult porn sites and in child sites," she said. An attorney for Libman, H. Louis Sirkin, said he expects an acquittal. The photos on Webe Web are open to different interpretations, he said. "It becomes a frightening issue in a sense because so much of it is in the eye of the beholder," said Sirkin….The men have been repeatedly featured in news reports questioning whether Webe Web was an Internet portal for pedophiles, and Don Austen, founder of Thursday's Child, said authorities spent two years investigating the site before finally filing charges.
http://www.justice.gov/opa/pr/2011/January/11-crm-056.html
http://jacksonville.com/apnews/stories/121406/D8M0PDIG4.shtml
FSC attorney Lou Sirkin defended also Max Hardcore aka Paul Little, another porn producer who makes films including acts that could legally qualify as assault and battery.
http://susannahbreslin.net/blog/2013/11/7/to-the-max
On an online message board, a member who calls himself "Sick Fuck" posted an inventory of Max Hardcore's most extreme scenes. The list is long. Some of the videos were created for European distribution, where the market is more permissive, an argument Little used to defend the graphic nature of his videos to little effect in the Tampa courtroom. The litany of highlights includes urination, defecation, and vomiting, all of which appear repeatedly. As a matter of fact, the image located at the top of this post is a still from one such video, the European edition of "Planet Max 16." Her name is Summer Luv. In the scene, her costar, Catalina, who was Little's girlfriend, vomits on Summer. Their three-way sex with Little includes fisting and a mechanical device that holds Summer's mouth open as he ejaculates onto her face, upon which a clown smile has been drawn. The other extremely explicit, NSFW images can be found here. Because if you're going to talk about how far we've come when it comes to porn, if you're going to posit Paul "Max Hardcore" Little as the latest victim of the Bush administration, if you're going to lament one more strike against your First Amendment rights, you should bear witness as to what a porn star drenched in vomit looks like.
Let's talk about Max Hardcore. He's a porn director, producer, and "actor" (that last word is HIGHLY iffy, in his case) who was recently sentenced to 46 months in prison for "obscenity." Unfortunately, this means that some folks – including folks at Gawker and Salon – are referring to him as a "first-amendment martyr."
Now, I've done some time in proximity to the porn industry. I know about Max Hardcore. I know the men who like Max Hardcore. I've heard those men talk about why they like him. And before we start talking about the terrible things that have been done to Max Hardcore – before we start talking about his fucking martyrdom – I think it behooves us to talk about what Max Hardcore has done.
Susannah Breslin, in her excellent post on the subject, points to a Hardcore fan's list (not linking here, because I can't visit it right now) of "extreme scenes" he's done. I encourage you to read it. See how far you can make it down the list. Here, I'll give you some highlights, which I copied last night:
Pamela Dee; In 1992, Little sent performer Pamela Dee to the emergency room at St. Joseph's Hospital in Burbank "after she suffered vaginal hemmhoraging during a taping," writes Nick Ravo in the 2/98 ICON magazine. Dee, a writer in Reno, Nevada told Ravo that Paul came up behind her and, without warning, rammed his fist into her vagina. "I never heard of anything like that being done to anyone before. I felt ripped open… He could kill someone – he should be behind bars… he really screwed me up."
Ryan: She is pissed on and anally raped in her scene. Matt wrote in his review for the film. "severely mouth rapes her. Man what a segment that was. She begs for him to slow up or stop and is definitely crying in agony! That only infuriates him more along with her wiping away/spitting saliva in disgust and he pounds harder into her mouth leaning backwards on his chair." I've watched this scene and the girl is in no way faking it, she is crying and begging Max to stop. "Can't you take your prick out." She cries to Max, he keeps saying, "A little bit longer," while continuing to pump away.
* Melody Love pisses onto ground for Max. "after the normal start suddenly the music wells up and overlays the human voices and at this point Max tries to anal her. She's pushing him away and obviously saying no with her face contorted in apparent agony….He holds her down and continues anyway, at one stage choking her. She seems to appeal to the cameraguy but of course he just continues videotaping. Then Max goes back to vaginal sex and the music dies down and is replaced by normal human noises." – Patrick Riley.
• Olivia; Actress Olivia claimed that she was coerced into sex during this shoot. All copies of this film were pulled. "After a while he tries to get her to do an ass to mouth and she won't do it. She says "no no no no no". Max sort of pushes her mouth towards his cock, but she resists. She then looks up at him and at the camera man, then gives in and does the ass to mouth. It's pretty compelling to watch. I wouldn't say they forced her to do it, but I think they made it clear that she should. I would think she would have known beforehand that ass to mouth was part of the deal but who knows. There's more to the story here. Later in the scene, Max has her upside down and he's forcing his cock down her throat. After a few minutes of this, she tries to get up and says "that's it, I've had enough." But Max just keeps going. I have to admit, that was a bit disturbing. Actually, quite disturbing. Max ignored her when she said she wanted the scene to stop. That's just wrong. The only other notable part of the scene is when she says something like "god, I'm such a whore" and looks off the set at the camera people as if she's shocked at what she's doing." – bofnyc. Max also pissed on Olivia's face during the scene. Some of which goes up her nose.
Let us be clear here: Max Hardcore is a rapist. He rapes sex workers, who are notably less protected from rape than other women, but that does not in any way lessen the seriousness of his crime. In fact, since those women have less access to legal recourse – remember, we are operating within a justice system where proving a woman is a "slut" can get you off the hook, and monetary exchange or contractual agreement stands in for consent, regardless of whether the sex worker consented to the specific acts which took place in the transaction – it makes his crime greater. He is a rapist, and he is in jail, and it is acceptable to be happy about that.
It is also acceptable to advocate banning Max Hardcore's work on the basis that he is selling authentic footage of rape and abuse, and must commit acts of rape and abuse in order to produce the footage. This is the same argument that we've used to ban child porn and snuff films, and it is not incompatible with a pro-sex or pro-porn viewpoint. To argue that Max is a victim of prejudice against sex work is to ignore the fact that, in his films, he aims to degrade the actresses (not their "characters," but the actresses themselves) specifically because they are sex workers – "whores," in his preferred language, who are "stupid" for agreeing to do the scenes and are therefore "get[ting] what they deserve."
Max Hardcore is not a victim of anti-sex-worker prejudice; he actively perpetuates it. Women have the right to have sex when they choose, and in the ways that they choose, and that freedom does not end once a woman enters the sex industry. People have been working for decades to make porn safe and fun and sexy for women – those who consume it and those who make it – and getting people like Max Hardcore out of the business is essential to the success of that project.
It is not acceptable to make like Glenn Greenwald and get all OMG WTF WHAT ABOUT TEH ABU GHRAIBS. As if people who object to Max Hardcore don't care about Abu Ghraib. We do. We care precisely because we believe that torture and forced sexual humiliation are unacceptable. We do not believe that it is any MORE acceptable to torture an American female sex worker than it is to torture a Middle Eastern man.
It is not acceptable to refer to Max Hardcore's films as merely "distasteful," without addressing the fact that Max Hardcore's work rests on the infliction of severe and unfaked pain, and sometimes on rape. It is unconscionable to say, as Greenwald does, that "there was no suggestion that any serious violence was ever inflicted or that the adult actors in the film were anything other than completely consensual." Olivia's rape is on record. The tapes were pulled, which is as close to a public admission of guilt as one can get. Pamela Dee's vaginal hemorrhage is, likewise, a matter of public knowledge. There is plenty of anecdotal evidence from within the industry to support the fact that, with Hardcore, the pain is real and there is no safeword. Any journalist who makes Greenwald's argument, or one like it, is either bending the facts to make a point, or else publishing his work without checking to make sure that his article is factually correct. In either case, such a journalist is unprofessional, if not downright dishonest.
Yes, obscenity laws are bad. They use definitions which are broad and subjective, they criminalize sex no matter what level of consent is involved, they are selectively enforced, and they can very easily be used to punish folks who are already marginalized, such as sex workers and queers. Andrea Fucking DWORKIN didn't support obscenity laws. So we can talk about obscenity laws, and we can talk about freedom of speech, but one thing we cannot do, if we want to be honest and accurate, is to argue that Max Hardcore is anything other than a dangerous criminal. Max Hardcore went to jail for obscenity; Al Capone went to jail for tax evasion. Neither one was convicted for his most severe crime, but both were bad men who got caught." http://tigerbeatdown.com/2008/10/08/theyre-selling-postcards-of-the-hanging-max-hardcore-the-business-of-abuse/
Please follow and like us: